Infamous: second son is a punk superpower game where you play as Delsin Rowe, a conduit.
ESRB Rating
Edit
The ESRB rating is T for teen.
Conduits
Edit
Conduits are people who are traitors to a cause. They can Manipulate the matter around them into a weapon, sheild, and even a fast healing power!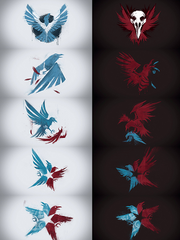 Karma is earned when you do a good or evil deed.
Good Karma
Edit
Good karma is earned by
subduing drug dealers and their drugs
and
Evil Karma
Edit
Evil karma is earned by
eliminating enemies (killing)
eliminating lifeline protesters
and
There are two different endings in Infamous second son. The
and
There are four different powers in infamous second son. They are
and
smoke powers are the first powers you gain. They are
vent healing (good karma required)
vent launch (evil karma required)
sustained fire (evil karma required)
sulfur headshots (good karma required)
knockout headshots (good karma required)
obliterating blast (evil karma required)
corrosive fumes (good karma required)
giant sulfur bomb (good karma required)
and
Neon powers are the second powers you gain. They are
rapid refire (evil karma required)
laser focus (good karma required)
extended bubble (good karma required)
and
deadly stasis (evil karma required)
Video powers are the third powers you gain. They are
drain video
quick drain
video torrent
extended torrent (evil karma required)
narrow band (evil karma required)
bloodthirsty blades
blade flurry
blade storm
video surge
hovering fire
air wave
double air surge
signal boost
shroud of invisibility
enhanced invisibility (good karma required)
extended invisibility
summon wingman
demon twins (evil karma required)
unholy trinity (evil karma required)
Concrete
Edit
Concrete powers are the fourth powers you gain. They are
drain concrete
quick drain
ground smash
strength of stone
strength of granite
concrete shrapnel
extended shrapnel
boulder dash
extended dash
endless dash
concrete barrage
wide barrage
double lift
triple lift
Karma Bombs
Edit
Karma bombs are basically the super abilities of the powers. They are
Orbital Drop (good karma version)
Orbital drop (evil karma  version)
Radiant Sweep (good karma version)
Radiant Sweep (evil karma version)
Hellfire Swarm (good karma version)
Hellfire Swarm (evil karma version)